This page is for customers who are using LMi-net supplied SmartRG DSL Routers. Please save this info locally so you can access it if you lose you internet connection.
Your connection to the internet has two main components:
1) Your router's connection to the internet (this is DSL)
2) Your connection to your router. For most people, this is a wireless connection.
This simple test will help us troubslehoot your connection problems.
First, we need to see if you can connect to your router from inside your network. To do this, open your browser and go to http://192.168.1.1/admin
You should get a password prompt. The users name is "admin" with the assigned password.
If you get in, then you have confirmed that you can connect to your own router.
When the router management page appears, look at the lower of the two panels on the Device Info page.  Here is an example…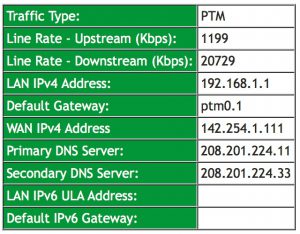 Note the Line Rate, which is your connection speed. A few lines below that is the "WAN IPv4 Address" line. Make note of the IP address listed here. If the router is connected to the internet, you should see a valid IP address. If you see "0.0.0.0" or "Connecting…" then there is a problem. Please contact our support dept for further troubleshooting.
If you are uisng an older SmartRG SR350 router, the WAN IPv4 address is not show here, but the DNS servers are, which will also indicate if there is a working internet conneciton.