Get Rid of Expensive Cable!
See How Easy It Is Today!
What Does It All Mean?
With the arrival of our blazing fast Phiber internet service and as the price of Cable and Satellite Television subscriptions continues to skyrocket, many of us are looking at ways to reduce the cost of our broadcast entertainment. In this day and age, we are no longer limited by traditional mediums and can watch TV over the internet, without the need for cable or satellite. We want to simplify this process by providing some recommendations and assistance getting started with alternatives to Cable and Satellite Television. These alternatives offer lower costs, more options, customization, and higher quality content. We know that with all of these new options, it can be daunting to get started. We're here to help, and we have some recommendations for our customers, new and old, to finally break away from their excessively expensive monthly television bills.

Cost
On average,
customers are paying over $150 for Cable television
 and that's before taxes, fees, and equipment charges. We aim to provide a viable alternative with the services we've listed below in combination with our blazing fast Phiber internet service.

Customization
How many channels are you subscribed to that you never watch? Well, that's going to change. Internet broadcast platforms like the services we recommend below allow you to customize your package to bring costs down and ensure that you're only paying for the content you watch.

Recommendations
With the sheer multitude of options, it can be dizzying to figure out which one works best for you. By no means are the products and services we recommend the conclusive answer for those looking to cut the cord, but we can wholeheartedly recommend them to our customers for their ease of use and cost.
Support
As always, we here at LMi.net want to make sure that you feel supported and comfortable in your transition away from conventional broadcast platforms. We're here to answer your questions, assist in your registration for services, teach you how to use the services, and ensure that you make the most of those services.
Getting Started
Moving forward, we will focus on the Roku device platform and the YouTube TV service. Ultimately, after testing numerous devices and services in our office as well as through personal experience by our employees and our customers, we have found that Roku coupled with YouTube TV serve as the most accessible combination while also providing the greatest availability of content at a price that we feel is more than competitive compared to traditional Cable and Satellite services.
Roku
Find out more and purchase your own Roku device
YouTube TV
Check out their channel selection and subscription options
Installation and Setup from LMi.net
We are proud to offer installation and setup of your Roku device with your YouTube TV account with our Phiber internet installations. This service begins after we have confirmed successful delivery of your new fiber optic internet to your premises and ensures that your Roku device/devices are configured with your Roku account and setup with your YouTube TV account. We will also walk you through the basic menus and use of the service and devices to ensure that you feel comfortable with your new online streaming service. Our installation and setup service costs $99 and can be scheduled with your Phiber internet installation.
Device Overview
Roku devices are one of the most popular home entertainment devices. The Roku platform serves as a premier entry point into cutting the cord with its ease of use and various options. We have tested extensively with a variety of devices, and for general use we find the Roku platform to be the most accessible while offering a wide variety of options to utilize the platform.
Roku Streaming Stick
This sleek and simple device plugs directly into your TV and is perfect for those who don't need all the bells and whistles. It streams in 1080p and connects to all of the same services. Even better, it's available for only $39.99!
Roku Ultra
This device is for those with a top of the line, 4K TV who want the best picture quality available. Connected to all of the same services, this device features an enhanced WiFi antennae and a faster processor to handle the jaw dropping video quality that can only be found in 4K video. Available here for $99.99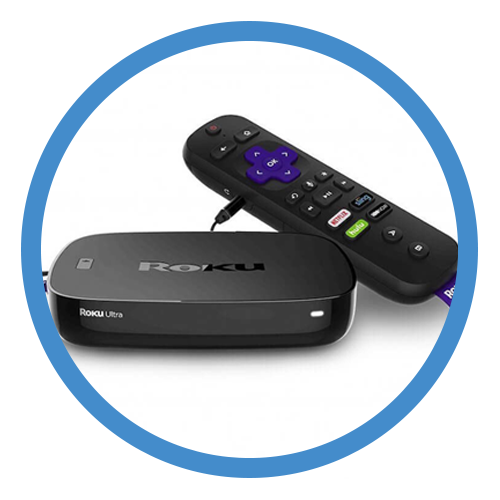 Other Devices
There are a variety of other options available to consumers to fulfill the same purpose as the Roku devices mentioned above. Some of our customers may fare better with the Apple TV if they typically utilize Apple devices. Others may prefer Amazon's Fire Stick if they shop heavily on Amazon with Amazon Prime. Ultimately, we can only recommend what we find to be most usable for the general case. If you'd like to see more available content and media devices, check out our guide on how Phiber can enhance your internet use.
Service Overview
There a large number of services available for our customers to find the right source of entertainment for their home You can read all about most of the available options here. We at LMi.net have selected YouTube TV service for their consistent quality and the wide range of available networks, including local broadcast channels as well as local sports channels for those who watch and support our Bay Area sports teams. What follows is a general overview of their service as well as some resources to get started with this incredibly viable alternative to traditional Cable and Satellite programming.
YouTube TV
YouTube TV service is a live streaming TV service which includes a plethora of features to improve your watching experience and customization options to ensure you only pay for what you watch. Starting at $49.99/mo, the service will work seamlessly with your new blazing fast gigabit Phiber internet service to provide unbelievable quality. And to top it off, the combined cost of these services provides gigabit fiber optic internet, a full featured lineup of broadcast content, and a home phone line all for just over $100!
YouTube TV's standard package comes with most channels that cover your cable replacement needs. Additional packages are available including NBA TV, HBO, Showtime and more!
DVR
YouTube TV offers a cloud DVR service which allows you to record as much content as you want and view it on any of your devices. It will record any airing of the program you select making sure that you can catch up on your favorite entertainment!
Devices
YouTube TV supports family accounts and viewing on multiple devices. You can watch on your phone, tablet, TV, or computer at home or while you're out!